Wedding days are stressful. On the day of your wedding, you want to look your absolute best. A great make-up artist makes your wedding day so much easier. They know exactly what it takes to make you look radiant in photographs for your big day. I recently spoke with Jen Bagnariol, an amazing Edmonton based Professional make-up artist, about all things make-up including what is most important when looking for a make-up artist. Here are a few of her tips.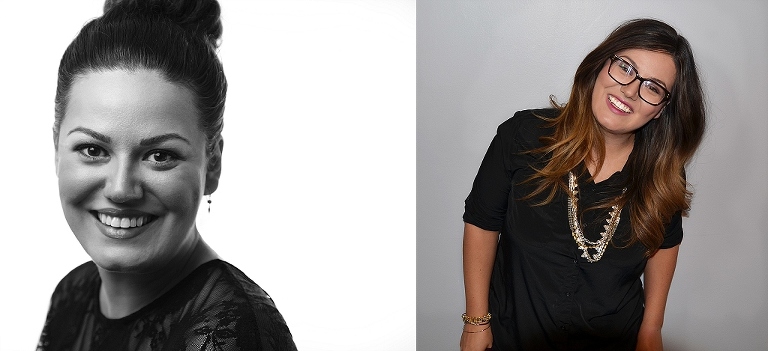 Q: Why did you become a make-up artist?
I have loved to play with hair, makeup and nail polish ever since I was a little girl. When I was thirteen, my older brother bought me a makeup kit packed full of lipsticks, eye shadows, blushes and brushes for Christmas. You name it I had it! I took that kit with me every time I left the house. I did makeup on anyone who would let me. I was thirteen when I knew I wanted to become a makeup artist; however, it wasn't until I graduated from the European Institute of Esthetics and gained experience in the industry that I came to realize the positive affect makeup could have on the way people feel about themselves. Makeup has the power to make an already confident woman feel even better about herself. It can give a woman who is introverted or shy the confidence to participate in a boudoir shoot. What I try to do is enhance my clients' best features so that they feel like the best version of themselves. The thanks and appreciation I receive from my clients is the reason I became a makeup artist.
Q: What makes a make-up artist great?
Creativity, passion and the love of all things makeup! A great makeup artist never stops educating themselves about new techniques and products. They are always looking for new challenges and ways to express themselves as an artist.
Q: What qualities should you look for in a make-up artist?
You should look for someone who is able to identify your best features and enhance them in the way that you envision– whether the look is subtle and natural or bold and eccentric. Your artist should be up-to-date on techniques and products. They should be able to explain the makeup application process step-by-step and answer any questions about products. They should also have experience working with photographers so that they understand lighting and how it affects the look of makeup in photographs.
Makeup artists often work in high-stress environments. Take bridal makeup for example, a makeup artist has to be reliable and flexible on the bride's special day. It is important for makeup artists to remain calm and professional no matter the circumstance. Scheduling a makeup trial and viewing the artist's portfolio is a great way to determine whether the artist has the qualities you are looking for.
Q What products are your favorite?
I would separate my favorite products into three categories: correcting, shaping and enhancing.
My favorite color-correcting product is Clinique Redness Solution Targeted Corrector, which is applied under foundation to "neutralize redness". When a person gets nervous, excited or has a glass of wine, their face tends to become vascular which creates a red glow. You can avoid that "glow" with the use of this product, which I love and use on most of my clients.
Over the past year, I have been honing my shaping, highlighting and contouring skills. I experimented with many different products before I found one that I loved: Bobbi Brown Cosmetics Foundation Stick.
I create dimension by highlighting and contouring my clients' features using a custom blend of light and dark foundations.
Anastasia Brow Wiz is one of the last products that I apply, but one of the most important in terms of enhancing your overall looks. This ultra-fine pencil mimics the appearance of your natural eyebrow hairs, creating a fuller more defined brow that is perfectly shaped. "I find that nothing frames a face so beautifully, or gives an instantaneous lift quite like perfectly shaped brows" – Anastasia
Q: Where do you look for make-up inspiration?
I find make-up inspiration in all things, whether it's the latest runway and fashion trends or the changing colors of the seasons. I peruse fashion magazines, keep an eye on runway trends, and watch out for product launches. I am also inspired by other makeup artists and find inspiration in blogs, Facebook pages and Instagram photos that are posted to inspire others to create fabulous looks. I use social media to follow and learn from makeup artists from around the world. I recreate a look and then make slight modifications, putting my own twist on that look.
Q: What trends do you see in make-up for 2014?
In 2014, brides are going to want a look that is effortlessly chic and simply elegant. Less is more in 2014. Brides will be drawn to natural tones, white eyeliner and cream shimmer to give the skin a healthy glow. Light pink lips and soft cat eyeliner is also a trend for 2014. This look is great with a vintage inspired dress.
Outside of the bridal world, color is trending in a big way – especially when it comes to lips. Bright orange lipstick will be all the rage in 2014. Blue and green eye shadows will add drama to a traditional smoky eye. For a more conservative smoky eye people will turn to charcoal and gold shimmers. Although bold lips and flirty eyes are the style, people are moving away from heavy foundations in favor of a more natural completion using lighter foundations that give the illusion of "barely there" coverage. It's going to be a great year for makeup!
Q: Why would you suggest hiring a professional make-up artist for your wedding or portrait session?
There are a number of advantages to hiring a professional makeup artist for your wedding or portrait session:
* A professional makeup artist knows how to enhance your best features and to minimize the presence of any imperfections. They can properly shape or fill your eyebrows, frame your face, cover pimples, and hide puffy eyes and dark circles.
* A professional makeup artist is well equipped. He or she will have the appropriate foundation for you and your bridesmaids. Your artist will know what techniques to use to ensure your skin looks both natural in person and vibrant in photographs. Most importantly, your makeup artist knows which products to apply and how to apply them so that your makeup lasts all day long.
* With a professional makeup artist you can rest assured that you are going to look your best on your wedding day. It is our job to make you look and feel great. The last thing you need is to worry about whether you applied enough blush so that you won't look pale in photographs. Your makeup artist will handle everything for you. You get to relax and enjoy the experience.
Q: What tips do you have for a bride to be?
1. Healthy skin is one of the most important factors when it comes to great looking makeup. I suggest going for a facial  a couple of months before your wedding date and beginning a daily skin care regime. It is important to exfoliate twice a week because dead skin build up can cause your foundation to flake, leaving it dull and uneven.
Tip: exfoliating your lips, this will make your lipstick last longer and give your lips a smooth kissable surface.
2. Schedule a makeup trial. This is your opportunity to get to know your makeup artist, ask questions, make adjustments and get an idea of how you will look on the big day. If you choose a lipstick for the wedding day, ask your makeup artist where you can purchase that color so you can re-apply it throughout the day.
3. Have your eyebrows waxed, tweezed or threaded four days before the wedding. This allows enough time for the skin to heal and will help you to avoid any adverse reaction to the makeup application on your wedding day.
4. Remember that you will have your wedding photographs forever. Makeup trends come and go, so I recommend choosing a makeup style that is classic and timeless – you don't want to look back at your photographs with regret.
Jen is an Edmonton Based Make-up artist & Esthetician, if you have questions for her or you want to hire her for your Wedding or Portrait session email Jen at [email protected]