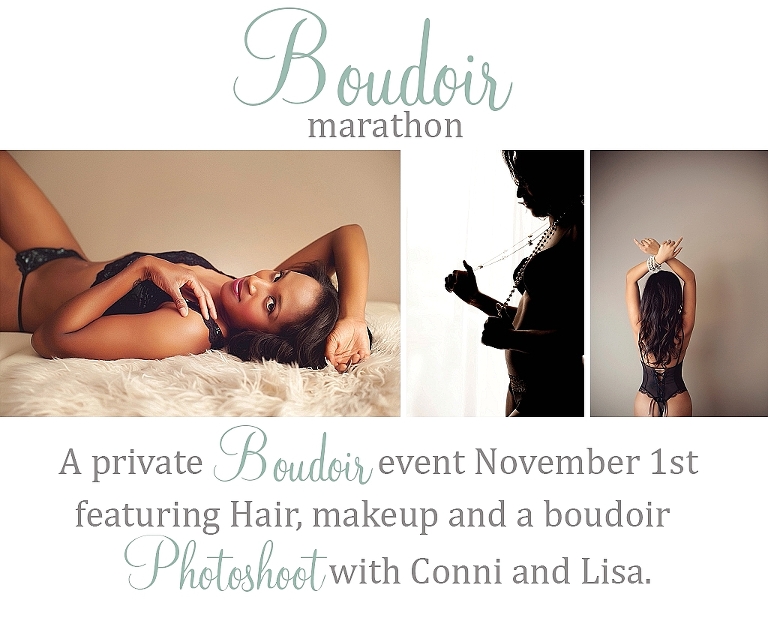 FAQ's about Boudoir Marathons
What is the difference between a personal boudoir session and a boudoir marathon session?
A boudoir marathon is only held on specific dates.  You book a time slot for your 45 minute session which includes hair, makeup and a private boudoir photoshoot with Conni and Lisa.  Boudoir marathons are the only boudoir sessions offered on weekends. See our pricing page more more information on what is included .
How should I arrive for my shoot? What should I all bring?

I would suggest you arrive with a bare face and your hair down.  Bring 2-3 outfits with accessories and some killer heels.  To prepare for your shoot we also suggest you get lots of sleep, drink plenty of water and treat yourself to a luxurious pedicure!
What do you recommend for outfits?
The most important thing you bring to a boudoir session is confidence.  I invariably recommend you pick outfits that make  you feel sexy. If you are having trouble deciding email Conni or me (Lisa) at mail@lifedotstyle.com and we will happily discuss outfits with you 🙂
Will my photos be posted on your website?
Not without your permission.  Conni and I only post photographs online with the permission of our clients.  Are you comfortable with us posting anything, only specific images or nothing at all?  Let us know when filling out our "about you" section! We always respect your decisions.
This sounds great, how do I book?
Send us an email at [email protected]  or  use the contact tab on the top of the page.  Conni will send you a booking proposal and contract. The contract must be signed and your non-refundable session fee paid to reserve your time slot. Book today to receive $150 towards products purchased after your shoot.